Main Content
One of Wake Forest's oldest traditions is its annual Lovefeast. The first Moravian Lovefeast was served in Germany on August 13, 1727, and is styled after a common meal shared by the early church as described in the Book of Acts. The first lovefeast in North Carolina was held on the evening of the arrival of the Moravians at Bethabara (just a few short miles north of the Reynolda campus) in 1753.
The 2019 Wake Forest Lovefeast will be held on Sunday, December 8, 2019.
Please note that this is 1 week later than usual due to a late Thanksgiving holiday.
"Wake Foresters away from "Mother, So Dear" can host a Local Lovefeast wherever they are."
All that is required for a lovefeast is a simple meal, family, friends, and a spirit of love and goodwill. It does not matter how you celebrate your homegrown version of the Wake Forest Lovefeast. All that matters is that you celebrate it with someone – or those – you love.
There is also no set format for the lovefeast, though it usually involves seasonal music and Christmas carols, a simple meal, the reading of scripture, prayers and the lighting of candles. The rest is up to you. The personal love, care and attention you bring to your own version of the lovefeast are the only elements needed to help you appreciate and acknowledge the blessings heaped upon you and your family – free of charge – every day.
Want to host a Local Lovefeast?
2019 Local Lovefeast Gatherings:
Check back frequently as more events are being added each week. Click on the city name for details and registration. Those that are listed without links are finalizing details, and registration pages will be shared soon. Make sure we have your current address in WAKENetwork so you'll receive your local invitation! 
Please register before November 30. Those that register after November 30 will not receive a candle, coffee, program, or Lovefeast bun. 
Please note that we are experiencing intermittent technical difficulties with our registration pages. If you have trouble accessing the registration, please email carram@nullwfu.edu to RSVP. 
Asheville (Swannanoa, NC)
Atlanta (FULL)
Charlotte
Dallas* (FULL)
(Town of) Wake Forest, NC
* this Local Lovefeast will incorporate a Pro Humanitate book drive. More details can be found on the registration page.
Don't see your city or can't make it to a Local Lovefeast gathering? Experience the Lovefeast from the comfort of your own home. More details can be found here. Please take a moment to register here if you plan to join this virtual Local Lovefeast, and we will send you step-by-step instructions for watching the live stream. You'll also get a "shout out" from the University Chaplain at the Lovefeast service, plus "Engage" credit toward your LoyalDEAC status!
Please contact Anna Marie Carr at carram@nullwfu.edu or 336-758-3506 with questions.
Organizing a Local Lovefeast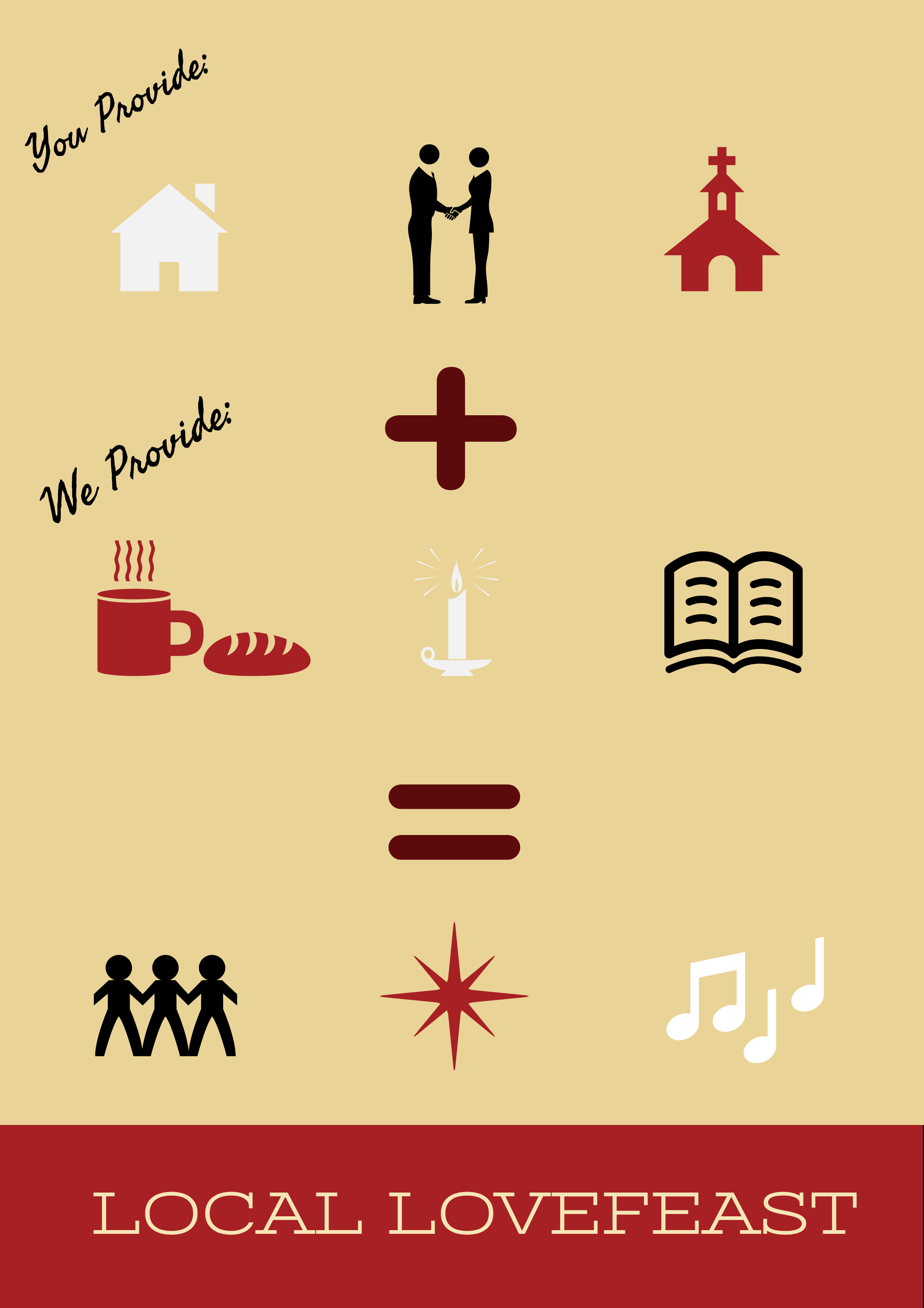 Lead Volunteer Responsibilities:
Choose which Lovefeast service your group would like to participate in (4:30pm or 8pm ET)
Help secure the venue (see below for details)
Receive the Lovefeast "kit" (mailed in late November) and the Lovefeast buns (mailed just before December 8) and bring it on the day of the Lovefeast
Familiarize yourself with the technical aspect of streaming the Lovefeast service (step-by-step instructions and a "trial run" will be provided)
Arrive at the venue early to set up and test the tech, make the coffee, and greet guests
Provide coffee cups/mugs, cream, sugar, and matches/lighter (if using real candles)
The Alumni Office Provides:
Alumni Engagement staff members will act as liaisons with our Lead Local Lovefeast volunteers throughout the planning process.
We will create event pages and registration forms, send out invitation emails, and track registration.
AE will send a "Lovefeast kit" to the Lead volunteer containing: Local Lovefeast guide, official Lovefeast programs, Beeswax Candles, crepe Candle "Skirts," & Sequin Pins, instructions on how to assemble/wrap candles, coffee and Lovefeast coffee recipe, and Moravian Lovefeast buns
Venue Requirements
Local Lovefeast Venue: either a home with a TV in a room with adequate seating, or a chapel or similar room at a local place of worship. Another location in a church or community gathering spot will also work, but keep in mind we want to try to recreate the cozy and intimate feel of the service, and reverence/ambiance of Wait Chapel. Please confirm with your venue that real candles are allowed. We can provide historical attendance numbers for planning purposes.
A screen and internet access: either a TV or a screen/projector, with capability to stream (through HDMI cord, Chromecast, etc.) a video from a computer or device. This computer or device will need to be connected to the internet to stream the lovefeast.
A speaker: if not streaming through a TV, an external speaker is needed to project the audio of the service.
Comfortable seating, adjustable lighting, and directional signage make the experience run smoothly and provide a welcoming environment.
Other Helpful Notes
Place buns in freezer when received to extend life until Sunday afternoon/evening.
Consider designating someone as "lead" singer to help carry the group in singing.
Or, during the carols, allow guests to mingle and gather their own bun and coffee.
Do not forget matches if you will be lighting candles.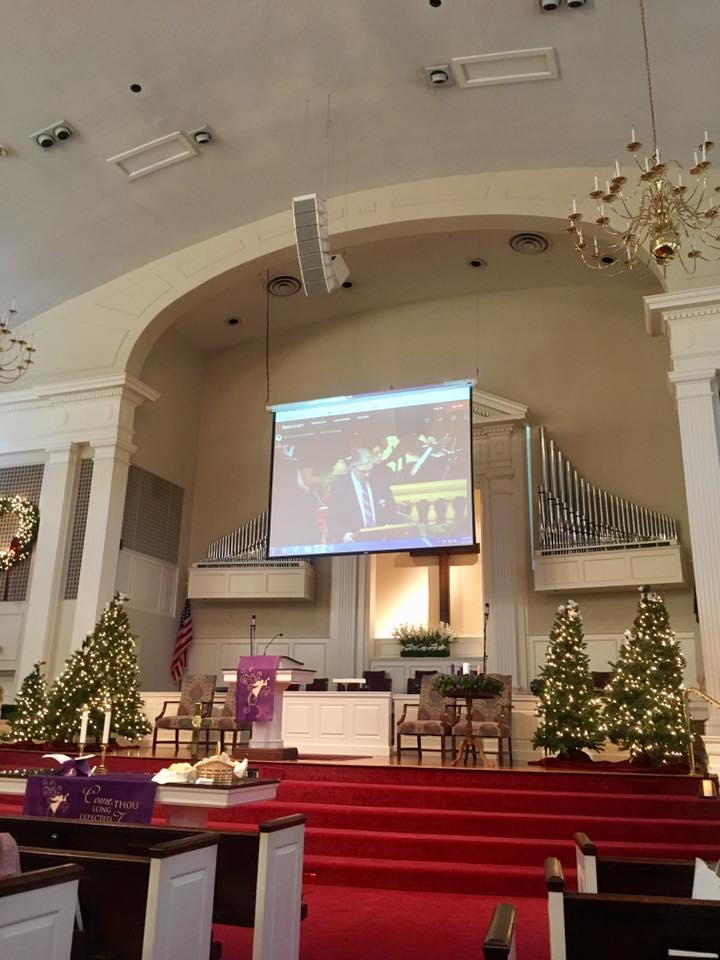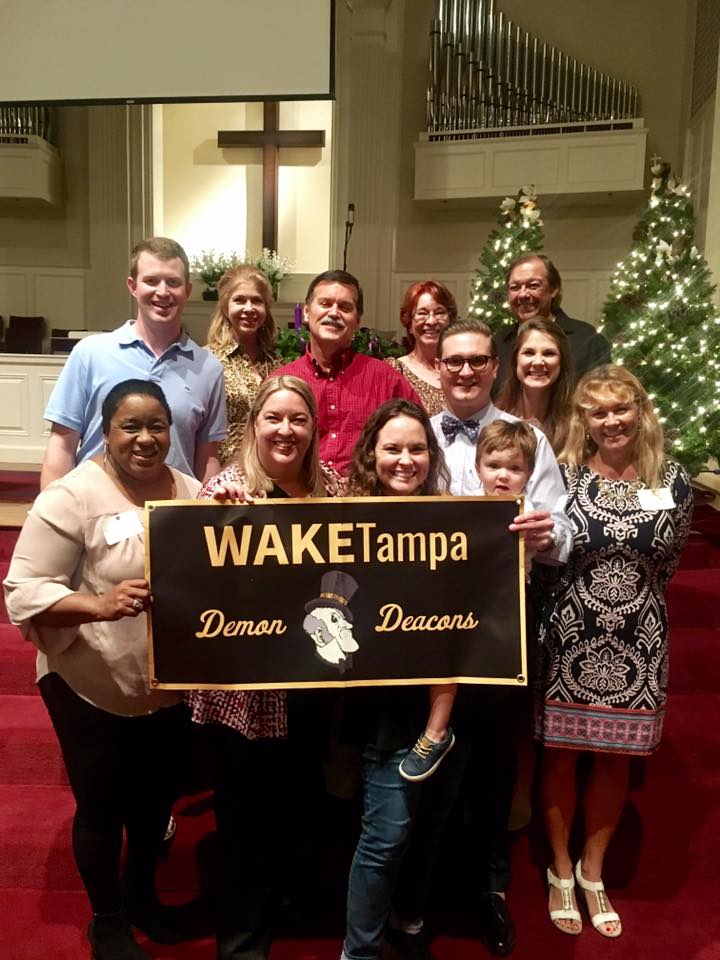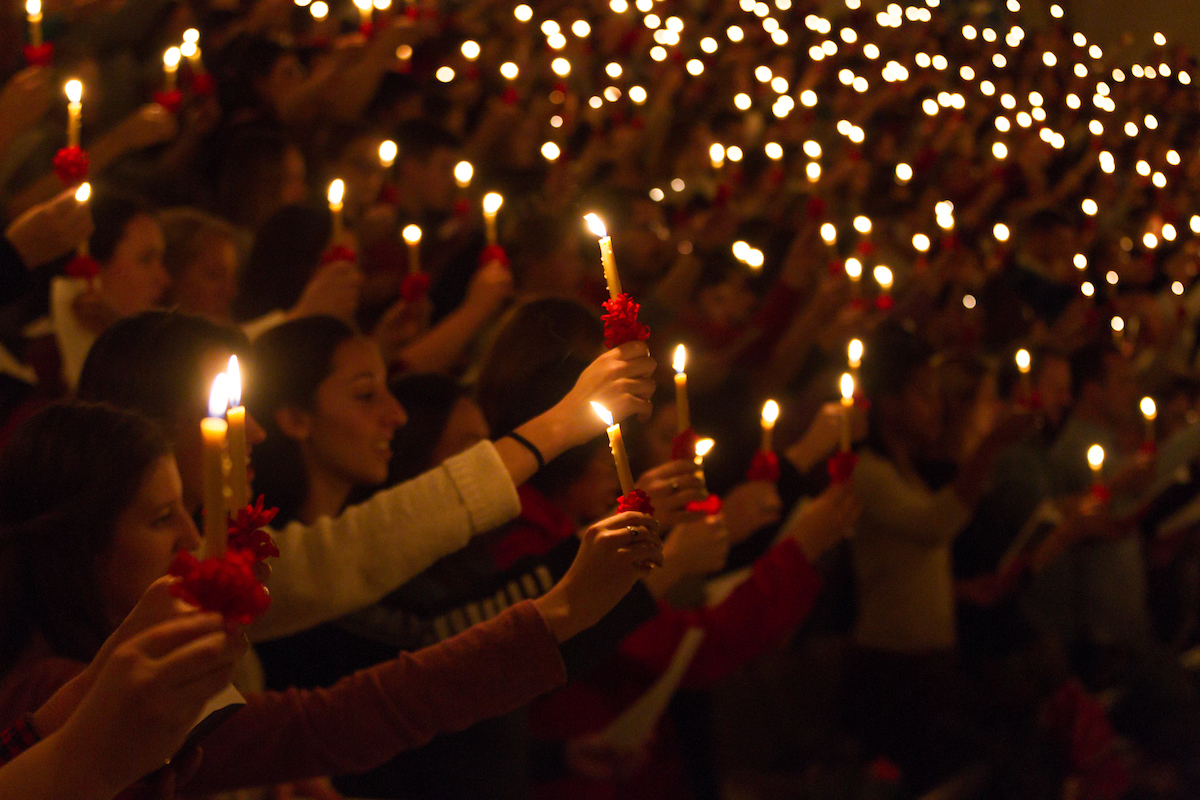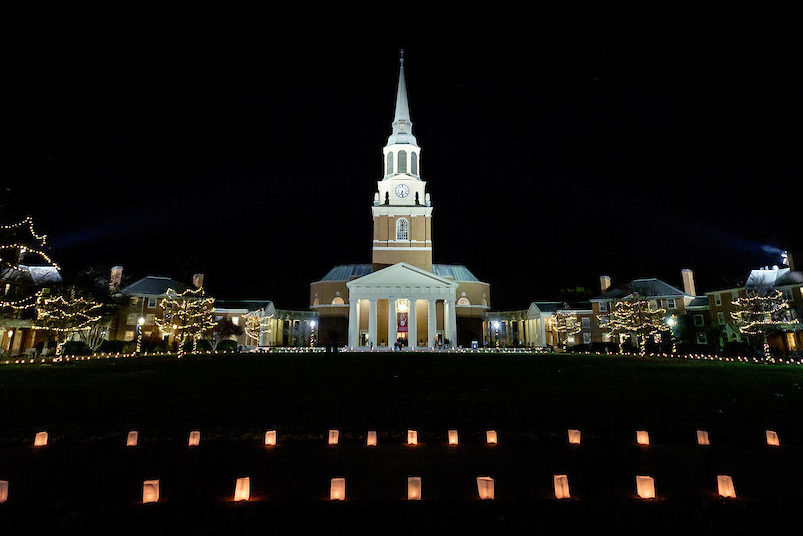 Pro Humanitate + Lovefeast
In the spirit of Pro Humanitate, we would like to offer an additional opportunity to help "spread the light" of the Lovefeast through a book drive. If you are interested in incorporating this meaningful experience into your Local Lovefeast, please let us know on the interest form.
Important Dates
October 8 – Save the Date email sent to all alumni, asking for lead volunteers.
October 31 – Last day to indicate your interest in serving as a lead volunteer.
November 1 – Deadline to confirm venue and choose which service you'd prefer to stream.
November 5 – First invitation/registration email sent from Alumni Engagement Office
November 11 – 15 – City-specific invitation emails sent from Alumni Engagement Office
November 21 – RSVP Deadline invitation/registration email sent by Alumni Engagement Office
November 30 – Registration deadline. Those who register after this date are not guaranteed candles or programs.
December 2 – Lovefeast Kits are shipped. Pro Humanitate Book Drive reminder email sent to registrants in participating cities.
December 5 – Dewey's Bun Shipment (overnight, direct from Dewey's bakery. Please place buns in freezer upon receipt)
December 6 – Reminder email and final details to all registrants
December 8 – Lovefeast: 4:30 p.m. (ET) Shorter, family-friendly service; 8 p.m. (ET) Traditional service